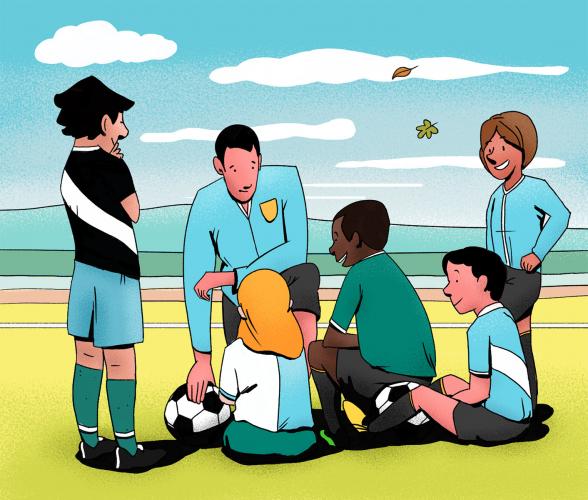 The child safeguarding toolkit for European football has been developed by UEFA and Terre des hommes to help national associations take measures to protect and safeguard children from abuse and respond to any concerns. The toolkit recognises that many national associations have already introduced good policies, procedures and training, and builds on extensive consultation with national associations and experts.
Safeguarding is contextual – procedures and policies need to be adapted to the situation at hand. The toolkit's templates and guidance are intended to help national associations (and affiliates) develop their own policies, procedures and good practices.
The toolkit is built around 5 goals
Goal 1: laying the foundation of safeguarding

(includes providing definitions of child, safeguarding, and abuse or harm, as well as clear policy statements/commitments to safeguarding.)

Goal 2: Ensuring organisational preparedness and prevention.

This includes establishing procedures and practices that will help to prevent situations of abuse.

Goal 3: Raising awareness

. This includes making sure that safeguarding measures are implemented and do not remain on a shelf. Efforts include awareness raising, training and communication. Communication and education are essential to ensure understanding of safeguarding measures and principles and what they mean for everyone in football.

Goal 4: Working with others and reporting concerns.

This includes responding to concerns if they arise and establishing how outside agencies should be involved in efforts to protect children.

Goal 5: Measuring success in safeguarding.

This includes monitoring progress and identifying good practices to share with others working in football.
The toolkit is accessible in English, French, German, and Russian; either as a full package or the templates can be downloaded individually.
The content of this toolkit was developed in consultation with national associations and experts and identifies what UEFA considers to be the most important actions to ensure that children and their best interests are adequately protected. It is a living document that UEFA will update regularly based on the feedback and practical experience of its members as they are led through the process of implementing child safeguarding.