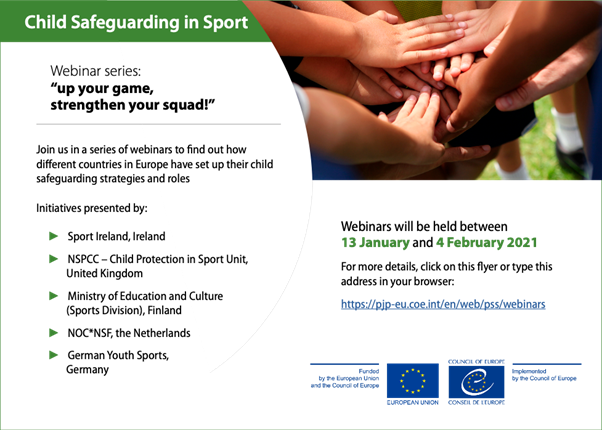 Date and time of webinar
-
This was the third webinar in a series organised in the framework of the European Union and Council of Europe joint project "Child Safeguarding in Sport (CSiS)".
The webinar was presented by Ministry of Education and Culture (Sports Division), Finland. It took place on Tuesday, 26 January 2021, from 10.00 to 12.00 CET. 
Watch below the recording of the webinar.
Finland is pleased to present the model for safeguarding children in sports from inappropriate behavior, bullying and harassment developed together with the sport organisations and the Family Federation of Finland. The model is financed in cooperation with the Ministry of Education and Culture and the Ministry of Health and Social Affairs. It has links to the overall ethical program of the Finnish sports as well as its public financing.
Opening and welcome
Mr Kolë Gjeloshaj, Chair of the EPAS Consultative Committee, Deputy Secretary General of the International School Sports Federation
Ms Elina Laine, Sustainability Manager, Sustainability program for the sports community, Finnish Olympic Committee
Speakers
Ms Pauliina Lius, Expert in youth sexual health, sexuality education, sexual harassment and violence, Family Federation of Finland 
Finnish Football Association (tbc)