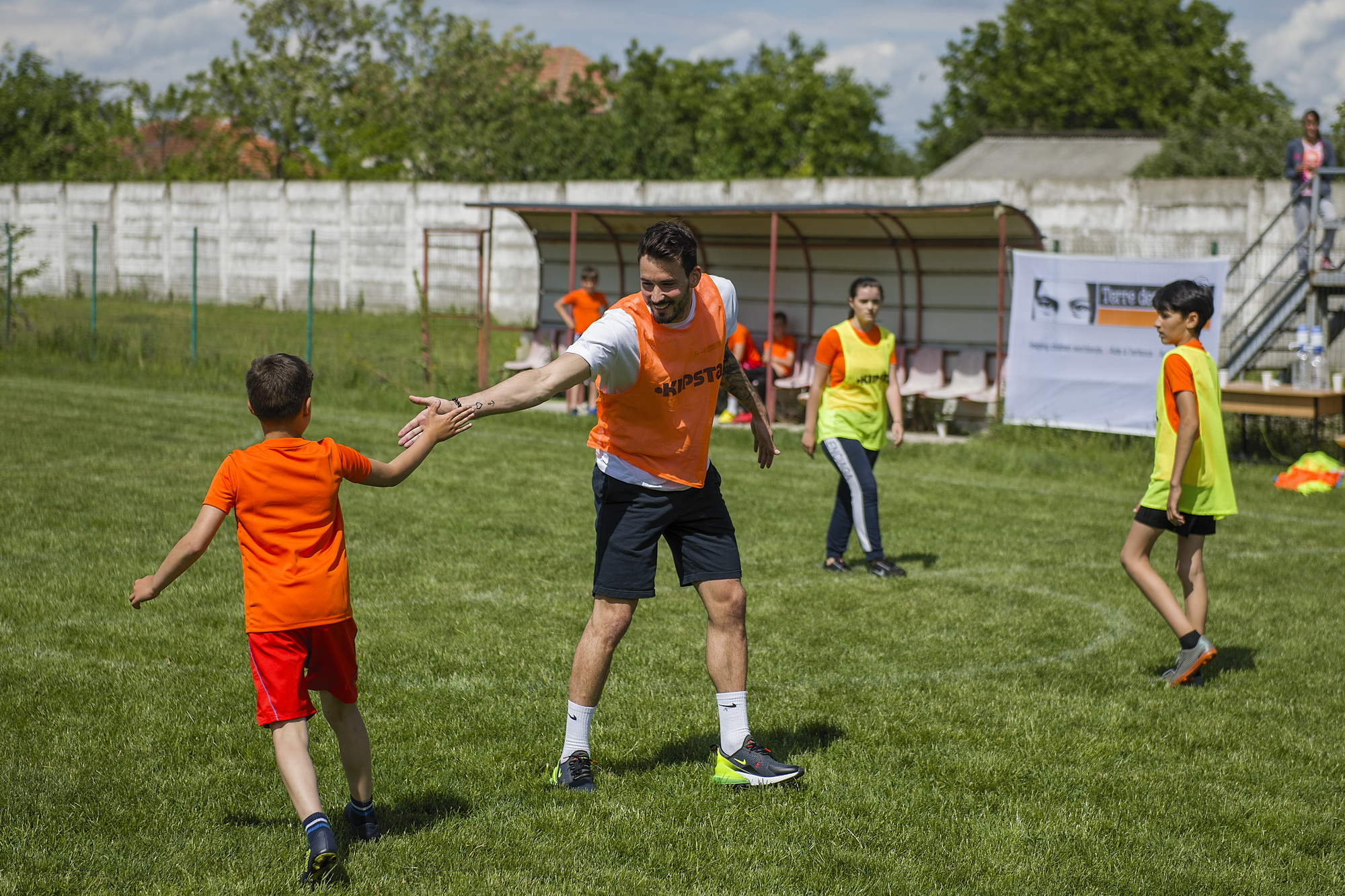 Terre des hommes in Europe
Roman Bürki, Terre des hommes ambassador and goalkeeper of the German football club Borussia Dortmund, visited Romania from 22 to 24 May 2019 to get acquainted with Terre des hommes' projects and to promote the need to keep children safe in sport.
"Every child has the right to a safe childhood, to play and be safe, and not to worry about anything else", said footballer Roman Bürki.
Terre des hommes (Tdh) highlights the need to ensure the protection of children participating in sport, and encourages sports organisations to improve in this regard by developing and applying child safeguarding policies. At the European level, Tdh supports the UEFA in strengthening its core mission to create a safe sporting environment for all children playing football in Europe, and at all levels of competition.
On 23 May, Tdh and the Romanian Football Federation held the 'Child Safeguarding in Sport' debate at the Mogosoaia National Football Centre near Bucharest. On this occasion, Tdh Romania announced the launch of a new project, in partnership with the Romanian Football Federation and the Romanian Gymnastics Federation.
The "Keeping Children Safe in Sports" project, funded by the European Commission, aims to promote child safeguarding policies in sports settings in Romania and Greece, and to ensure the safety and protection of children in sport. The new policies will be accompanied by training and guidance for professionals in contact with children in sports clubs, as well as empower children to claim their rights. It is important that all actors involved, such as parents, coaches, volunteers and children, are informed and are able to recognize a form of abuse and to denounce it.
"The project is about preventing any situation or activity that can cause children a negative feeling. There are several forms of abuse that children can be subjected to: physical, sexual or psychological abuse, as well as neglect. We need to think about children practicing any sport at any level, from any social or cultural background, including those with special needs. Everyone must be protected, they have the same right to be protected," says Kirsten Theuns, Terre des hommes Delegate for Eastern Europe.
Informing the general public about the definition of child abuse, how to recognize it and take action on suspected cases is another important component of the project. "We also must address the general public, because there are situations where people think it's normal to scream at children, put pressure on them, and it is not. We need to help people understand what can be tolerated and what cannot, and where is the border between these," says Kirsten Theuns.
During the debate, Roman Bürki shared his experience of playing football, a sport that he has practiced since childhood, and respecting certain essential principles that led him to reach his current level of performance. The unconditional support of his family, especially of his father, the feeling of safety and trust in his coach and team members, and visits to a therapist helped him to overcome the pressure of his matches and become a goalkeeper at the German football team, Borussia Dortmund.
"We need to take care of the children and give them a safe place where they can ask for help or talk about the problems they have. It is our duty to take care of the children, because we have a stronger voice than theirs," says footballer Roman Bürki.
Lucian Sanmartean, a former member of the National Football Team and current sports manager of the national junior teams of Romania, took part in the debate too. After experiencing himself emotional abuse as a young footballer, Lucian Sanmartean wants to provide children a safe and trusted space.
"It is important that children feel that they can talk about the things that bother them, because it is an age when they hide their emotions. We are the adults and we have to take the initiative, and not the other way around. It is hard for an eight-year-old to say: «The coach has spanked me»", says Lucian Sanmartean.
The "Child Safeguarding in Sport" debate was part of a series of events organised during the visit of Roman Bürki to Romania. The visit focused on raising awareness about the need to ensure safeguarding of children practicing sport, on one hand, and on promoting the benefits of sport for the social inclusion of vulnerable children, on the other hand.
During the three-day visit, footballer Roman Bürki learned about an after-school programme in Piatra Olt town, Olt County, and then played football with the children in the community. The after-school programme began in 2014 within the zefiR project, implemented by a consortium of eight organisations led by Terre des hommes Romania. At Secondary School no.145 from Bucharest, he got acquainted and played football with Romanian children and refugee children from the Regional Accommodation and Procedures Centre for Asylum Seekers.
For more picures and stories, visit Tdh Global Facebook, Tdh Instagram, Tdh Romania Facebook, Tdh Europe Facebook. 
*****
About Terre des hommes
Terre des hommes (Tdh) is the leading Swiss organisation for children's aid. Since 1960, Tdh has helped build a better future for vulnerable children and their communities, making an impact with innovative and sustainable solutions. In 2018, we provided assistance to over four million children and members of their communities in more than 40 countries through our health, protection and emergency relief programmes.
Being active in Romania since 1992, Tdh contributes to improving the child protection system, supports children affected by migration and those in conflict with the law.
Tdh is one of the main international organisations that promote the benefits of practicing a sport such as improving mental health and social inclusion of vulnerable children.